THE NEW CENTER Germany 1989-2000
Die Neue Mitte
Deutschland 1989–2000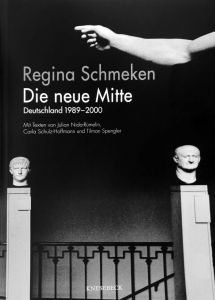 with texts by Julian Nida-Rürnelin, Carla Schulz-Hoffmann and Tilman Spengler
bound, 24 × 32 cm, 176 pages, 85 photographs in black and white duotone
Knesebeck Verlag, Sept. 2001 Price 68€
"Nobody comes by at the center." Tilman Spengler
It must be between Nero and Vespasian – the much-cited "New Center". On the cover of Regina Schmeken's text and picture book to Germany's post-reunification gapes between the gypsum busts of the pleasure-seeking arsonist and the niggardly real politician among the Roman emperors a dark, foreshadowing gap.
As you leaf through the volume, it fills with associations, cross-references, and landmarks. Simple, even state-supporting answers cannot be expected from the photographer. She designs the topography of the post-Cold War world as a panopticon of vanities, destinies and shows. Peter Handke's poet-chief after a lecture on Serbia's salvation can be found between pictures from Bosnia and Kosovo; Sir Norman Foster's Reichstag dome next to a funfair carousel. These sometimes almost punned compilations are fun, but subject the pictures a hard test. They prove their worth, because Schmeken has a very good sense for the balance between seriousness and humor.
The new center, as a linguistic mold, is the perfect political slogan.
The fact that Regina Schmeken manages to turn a clever essay into a worldly position has less to do with the linguistic inconsistencies of Nida-Rümelin and Szczypiorski than with the breadth of her approach. It incorporates images from Europe and the world, showing still lifes, landscapes and interiors, in order to come to terms with the power mimes of the Berlin Republic. When at the GI meeting in Cologne, Gerhard Schröder, radiant like a Sun King, asks colleague Bill Clinton for the common Pas de Deux of world-leaders, one may again think of the modesty of old Vespasian. The gifted redeveloper of public finances – and inventor of a public utility tax – sighed on the deathbed: "woe, I believe I will become a god."
Tim Sommer
(Review of the book in the art magazine "art", as recommendation of the month November 2001)